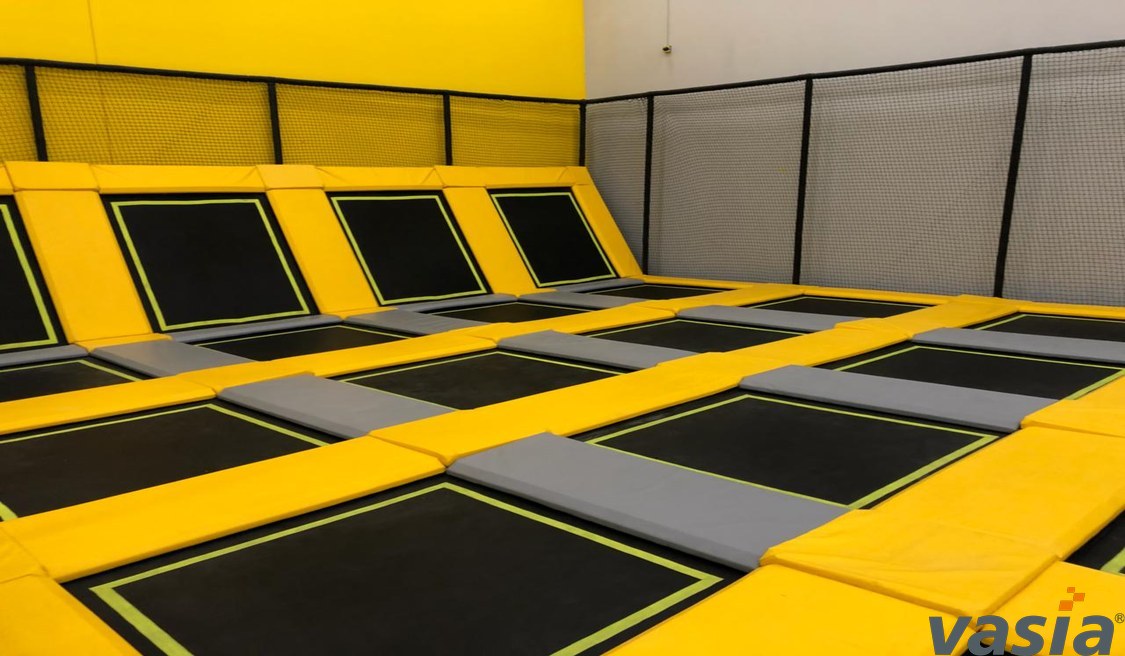 How could indoor trampoline park better deal with the influence from COVID-19 pandemic

?
The COVID-19 was a relatively big turbulent event. Many people or industries were suddenly stunned, leading to misjudgment and even completely losing their judgment. Take bounce trampoline park as an example. It seems to be at a loss as to how it will develop in the future. We found that some trampoline parks that achieved good results were based on some correct predictions.
The epidemic

development

prediction

and industry impact prediction
1. Development of the epidemic prediction
Regarding personal predictions, based on the reference to the situation of SARS, the epidemic should be expected at least half a year. The outbreak of this epidemic may end at the end of February and begin to subside in March. It may take half a year to recover. The epidemic situation is different in different regions. The specific opening time of entertainment venues is subject to government arrangements.
2. The impact of the epidemic on the industry prediction
1) Correctly view the short-term peak passenger flow.
After the epidemic and the psychological reconstruction of the people, there will be a peak in passenger flow for amusement places, whatever indoor places or outdoor places and we must view this phenomenon correctly. This phenomenon is not a rebound growth, just that everyone needs a certain amount of play time. After a few months of leisure, they go to the playground at the same time.
2) It is a one-time loss, non-deferred loss
Our industry belongs to the indoor playing park, which is an experiential consumption, not necessary for life. No one came in the first few months, it was a one-time loss, not a deferred loss, and it would not accumulate in the following months.
3) Conservative financial strategy with active business strategy
In general, the trampoline venue is expected to have little performance from February to May, and will be available completely after June. Therefore, we have to live for half a year. In the second half of this year, we will also be affected indirectly. Therefore, it is recommended that all trampoline parks adopt conservative financial strategies and active business strategies this year. During this period we can update and improve our projects, if there are some indoor items can be arranged outdoor, it will be better for the clients to have a try. Such as free climb, outdoor playground of children etc.
How to survive for the trampoline park?
Survival is the first. If we are going to survive, it is important to understand whether our cash stocks can be sustained until May or even June or July. For the relatively difficult trampoline centre, it is recommended to do extreme open source throttling.
1. Rent negotiation
For private or individual companies, we should use the "Community of Destiny" to make sense, and try our best to negotiate with our property or owner, but it is not recommended to take extraordinary measures. As we become better, the shopping malls will also become better. In this special period, we should join forces and work together.
2. Staff salary
Due to the epidemic situation, all trampoline venues are basically closed for more than one month, the people in charge can discuss with employees whether they can accept salary cuts to work through the difficulties with the company. But there is no bottom-line salary reduction, it must be reasonable. After all, employees also need to live. All workers are working together to overcome the temporary difficulties. The general principle is to have consultations, and make it clear in advance.
3. Pay attention to local policies
Pay attention to local policies, such as helping enterprises and benefiting enterprises and stabilizing subsidies, and if possible, you can strive for them.
Prepare actively
The same thing, if we do it earlier and more actively than others, we can get a chance by laying ahead. The performance of the indoor jump park in the second half of this year is determined by our actions today, so we have to take the initiative, and now we have to do some active preparations after reopening the door.
1. The team moved ahead
In extraordinary times, store managers, supervisors, and other senior management teams must assume collective responsibility for leading venues, and cannot rely solely on the boss. If some stores have more employees, they can also look for some possible revenue.
2. Member-centre operations
1) Divided members into different communities
2) Caring for customers
3) Improve brand recognition through content output
4) Maintain old customers and make preparations for new customers
3. Store projects adjustment and upgrade
Fun bounce house places should have interesting and interactive sports and health items to increase the characteristics of venues.
4. Store safety management
After the epidemic, everyone may be concerned about whether it is safe to enter, sanitation and disinfection of the indoor trampoline places. During the epidemic situation, we can also make a good layout in advance and actively prepare for it in advance.