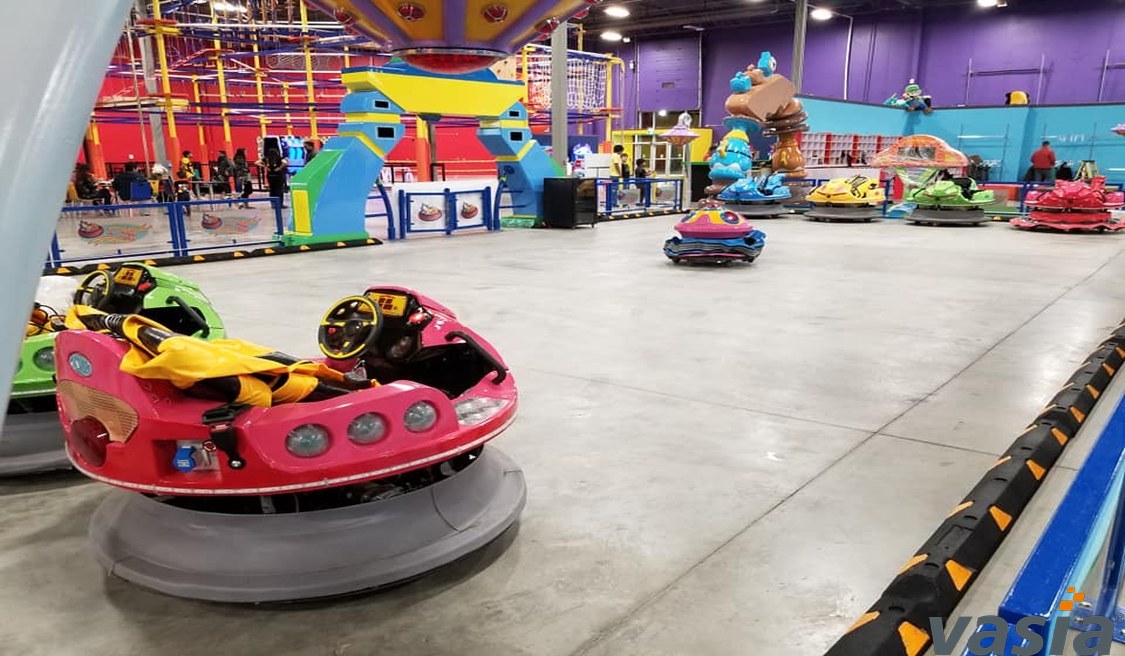 I

t

I

s

T

ime to

I

nvest in

F

amily

R

estaurant with

F

ancy

K

ids

P

layground
The family restaurant with indoor children playground is a kind of new restaurant that was born in recent years. It is mainly aimed at parents who take their children to dinner, so that they can enjoy a pleasant meal while accompanying them. Looking at domestic family restaurants, most of the positioning is to liberate parents. The family restaurant includes two main functional areas, which is restaurant area and kids play area.
Huge Market Demand
A recent set of business survey data shows that children 's expenditure accounts for 30% -50% of household expenditures for 80% of families. In 2018, the scale of China's children's consumption market has exceeded 4.5 trillion, and it has increased by more than 30% annually. Among them, the proportion of consumption in the theme business circle of children's entertainment and education experience is about 40%, and the annual growth rate will exceed 40% in the next 5 years, ranking first in children's consumption growth.
According to statistics, the average monthly expenditure of Chinese urban households on children's diet is 500-1000 yuan, and the market size of the Chinese children's catering market is currently 50 billion yuan. It is estimated that by 2020, domestic children-themed catering is expected to exceed 350.
These data are sufficient to show that family restaurants with indoor play area for kids have a bright future.
Reasons for the Bright Future of Family Restaurants
As the post-80s and 90s become the mainstream of family consumption, the demand for family consumption of these people is also more urgent. For parents, nutrition and joy are very important for children.
1. Children-based Consumption Is More Prone to Repurchase.
A married mother once said that when going out now she is more like to choose a place suitable for children to play, and also go to a restaurant with a lighter cuisine that meets the taste of the child. When she saw the restaurant is good, she will always choose this one.
Parental consumption will give priority to meeting the needs of children, which will also make it easier to repurchase. If the grades, products, services and creativity of children's restaurants are continuously improved, the customer base of family restaurants will be further expanded.
2. The Family Consumption Is Mostly Based on the Family, and the Unit Price of the Customer Is Higher
According to the China Family Scene Internet Consumption Insight Report, married consumers prefer family scenes. The unit price of customers in the family scene consumption field is significantly higher than that of unmarried customers. With children, parents tend to spend more money to let the family eat, live, play, and be served well, so that they don't have to worry.
3. Family Restaurants Are Easy to Establish a Good Reputation
Most parents are happy to share and talk about their experience. Which restaurant does the baby like to eat, which restaurant is delicious and fun, such topics will lay a good foundation for the family restaurant word-of-mouth marketing.
How Family Restaurants Achieve Rapid Profitability
There are many profit models for family restaurants, mainly divided into two aspects, diet and activities.
1. Focus on Projects with High Unit Price
It is the focus of the family restaurant's rapid profitability to hold activities with high unit price. For example, in a party, live decoration, photography, clown performances, cakes and desserts are all charged separately.
2. Improve Catering Quality
Only the meal with the coexistence of beauty and taste can satisfy the whole family.
3. Children's Meal Design that Caters to Children's Needs
Children's meal design should cater to children's psychology, and the design from the menu to the dishes must meet the children's aesthetic.
4. Free the Hands of Parents
The purpose of many parents going to the family restaurant is to find a kid play place, and at the same time they can relax themselves. Therefore, the family restaurant's care function is the most favored by parents. After the child enters the kids indoor playground, there is a person to take care of the kids. Parents can rest and relax in the rest area with tea.
The current family restaurants are mostly operated in the form of restaurants and kids play area indoor. Children 's meals and kids play space are the two main elements. It needs to design the space layout and decoration details from the planned opening period, and also depends on certain professional knowledge in childcare, nutrition, and protection during operation.